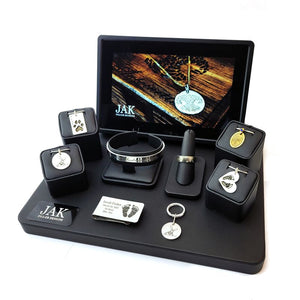 Exclusivity within your area.*

Access to Promotions & Sales
Digital Touch Screen with Automatic Photo Updates :)
Instantly break even with a $283 wholesale credit towards orders when selling at 3 key retail :) 
1 x Sterling Silver
Pawprint
 Dog Tag Pendant
1 x
Sterling Silver
Footprint
Heart on Side
Pendant
1 x 
Sterling Silver
Drawing
 Round 
Pendant
1 x 14KY Plated
Fingerprint
Oval with Gemstone Accent
 Pendant
1 x Sterling Silver 
Handwriting
Cuff Bracelet or Bar Bracelet (with chain)
1 x Sterling Silver
Fingerprint
 Keychain
1 x Sterling Silver
Fingerprint
Ring
1 x Stainless Steel
Footprint 
Money Clip
-
*Exclusivity:

With this network, you will receive exclusivity to our jewelry store keepsake line within a 20-minute drive (rural), a 10-minute drive (city) of other jewelry stores.  To keep this exclusivity the store must have a minimum of an average of 1 order per month every 12 months.
$283 Account Credit
Receive a $283 account credit towards your first order!
Digital Screen
We can instantly upload new photos including promotional images to your digital frame.  The silent salesman will show amazing, HD images including information on our sales and promotions.
Access to Sales
As a retailer with a display, you will have access to our special promotions.  Example:  In 2021 we gave away free custom-made keepsake boxes with the prints with jewelry purchase :)