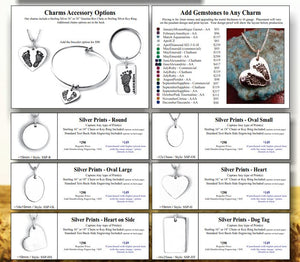 Use this page to order a collection of jewelry items featuring a print, handwriting, or monogram. 
If you are ordering additional items with different prints you will add this collection to the cart then start another collection and add that to the cart. 
The first box is for the regular priced item (highest priced)
Use the lower boxes for all equal or lower priced items featuring the same prints, handwriting, or photograph. 
If the first box is not used for the highest priced item we will send an invoice for the difference.